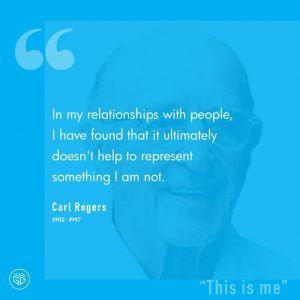 Individual Psychotherapy is one-to-one work between a psychotherapist and a client. People may decide to pursue individual psychotherapy for personal growth and empowerment or because they experience personal problems such as, intimate or familial relationship problems or professional problems such as conflict at work.
As a Person-Centred Psychotherapist – Counsellor, I always bear in mind that my clients are individuals who have within themselves huge resources for self-understanding, for altering their self-concept, attitudes and self-directed behavior. As a facilitator, during the sessions, I enable the clients to tap these resources in order to experience growth and changes and, thus, enhance their quality of life through the maximization of their efficiency which leads to the fulfilment of their goals.
The three conditions which I respect and cultivate so as to facilitate the clients to experience this growth-promoting climate are:
Genuineness, realness or congruence. This means that, as a therapist, I am openly being the feelings and attitudes that are flowing within at the moment. There is a close matching, or congruence, between what is being experienced at the gut level, what is present in awareness and what is expressed to the client.
The second attitude of importance in creating a climate for change is acceptance, or caring, or prizing – unconditional positive regard. As a therapist, when I am experiencing a positive, non-judgmental, accepting attitude toward whatever the client is at that moment, therapeutic movement or change is more likely.
The third facilitative aspect of the relationship is empathic understanding which means that, I, as the therapist, sense accurately the feelings and the personal meanings that the client is experiencing and that I communicate this acceptant understanding to the client. It is important to point out that the Person-Centred Approach is built on a basic trust in the person because we are aware that the actualising tendency is present in every human being. Given this belief in the person, it is my primary goal to aim to release this directional flow which will enable the client to grow, to develop and to realise its full potential. Finally, my quality of presence and active listening synergistically support all the above to materialise.
Each session lasts 55 minutes and it is recommended that the client has one each week. Sometimes, due to the nature of the problem, it may be necessary to have two sessions per week. Upon the completion of a cycle of sessions, which usually consists of 7 sessions, there is an overall evaluation of the progress. Accordingly, sessions may be terminated or continued after having had a thorough discussion with the client.